​Saturday, September 28, 2019
Tucker First UMC Activities Center, 4315 Church Street, Tucker, GA 30084
(located behind the Church building at 5095 Lavista Road)

"Let your light shine before others, that they may see your good deeds and glorify your Father in heaven." Matthew 5:16

​Come out for one great day to help our community. Work in teams on service projects to benefit many local organizations. Age, activity level, and experience do not matter; we have a project for you! Free child care will be provided for children eight and younger.
Schedule:
Saturday, September 28
8:00 a.m. – 8:45 a.m.- Welcome, Light Breakfast, and Announcements --Tucker First UMC Activities Center
8:45 a.m. – 12:45 p.m.- Time for Service Projects
1:00 p.m.- All Projects completed

Sunday, September 29
12:15 p.m. – 1:30 p.m.- Free Celebration Lunch for all project volunteers and their families --Tucker First UMC Activities Center

Registration fee: $10 per person, includes a Great Day of Service T-shirt!

Projects Available: Choose from the following projects available on a first come, first serve basis:
---
Project #1: Refugee Resettlement Shop/International Rescue Committee (IRC)


Sort and organize donations for refugees rebuilding their lives.
The IRC in Atlanta provides newly resettled refugees with necessities – such as clothing and household items – needed to start rebuilding their lives in Georgia. The IRC's Resettlement Shop accepts donations from community members and is open three times a week for IRC families to "shop" for free. Help sort and organize donations.
---
| | |
| --- | --- |
| Project #2: Homebound Elderly Assistance | Be a "clutter buster" or "fairy yard mother" for an elderly community member. Many simple cleaning, organizing, and yardwork tasks are impossible for elderly people who are homebound. Visit 2-3 homebound members of the Tucker community to help with their most- needed tasks. |
---
| | |
| --- | --- |
| Project #3: Side by Side Brain Injury Clubhouse | Help host a celebration at the clubhouse. Side by Side Brain Injury Clubhouse is a place for brain-injured adults to work together in a supportive environment to move from being hospital patients to contributing community members. At the clubhouse, members work with staff on clerical, cooking, and maintenance tasks, while achieving increased independence. Rarely do all members, their caregivers, and their families have a chance to gather together for food, fun and fellowship. Be part of this unique opportunity! |
---
Project #4: Dekalb County Police- Tucker Precinct

Honor and thank those who keep us safe.
The Tucker Precinct of the DeKalb County Police Department has more than 100 staff working 24-7 for us. During this activity, write your personal notes of thanks to them for their selfless service or encouraging words to honor their bravery and hard work. The notes will be hand delivered to the precinct building and distributed to each staff member at the beginning of each shift.
---
Project #5: Wellroot Family Services

*Safe Sanctuary training is required for those participating in this project. Training will be provided if necessary.



Let foster parents attend essential training by caring for their children.
Wellroot Family Services works with foster families by ensuring they have the proper training and support. While foster parents are in a training session at Tucker First UMC, provide loving care for their children, in addition to children whose parents are completing GDOS projects.
---
| | |
| --- | --- |
| Project #6: DeKalb County Fire & Rescue | Be a "hydrant hero" and help paint fire hydrants in our community. DeKalb County has a policy that all fire hydrants are silver. Freshly painted fire hydrants help the fire department by increasing visibility. |
---
Project #7: Parkwood Farms Equine Therapy Center

Clear horse trails and do light maintenance at a therapeutic horseback riding center.
Parkwood Farms provides therapeutic equine activities for children and adults with special needs including autism, Down syndrome, cerebral palsy, emotional problems and learning disabilities. Pitch in to help give the facility a good "once-over" at the beginning of the fall season.
---
Project #8: Nett Church Campus Homeless Services Cooperative

Work on a new homeless services cooperative housed at Nett Church Jimmy Carter campus.
Gwinnett County has the largest homeless population of any metro Atlanta community except for the city of Atlanta. Help prepare the grounds and facility for a new homeless services cooperative that will be operating in conjunction with a new 20 bed women and childrens shelter that will be operated by Gwinnett County.

---
Project #9: Tucker First UMC Activities Cleanup

Be a HERO (Have Everything Rightfully Organized)
Through the years, the Activities Center has become a drop-off point and giant storage locker for materials and equipment. Join this cleaning dream team to help get this church and community resource back in shape. Many hands make light work!

---
Project #10: Corners Outreach Homework Club

Help K-5 students from local elementary schools.
Corners Outreach works with young dual-language learners on improving their reading and math skills at the Homework Club, centrally located among five Title 1 elementary schools. During this special Saturday-morning Homework Club session, work one-on-one and in small groups with students on reading, crafting, and expanding their minds.
---
Project #11: Meadowbrook Health & Rehabilitation
​

Make our elderly neighbors feel young at heart.
Activities that engage the minds of the elderly increase their quality of life. Play bingo, join a sing-along, and visit the residents of Meadowbrook Health & Rehab.
---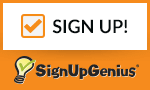 To register, click the SignUp Genius button above.